The ULTIMATE beach & outdoor cup holder!
The patent-pending VersaStake® truly is the ultimate cup holder! Great at the beach, around the campfire, in your backyard, or virtually anywhere outdoors. Our elevated drink holder is perfectly capable of holding the largest metal cups and tumblers.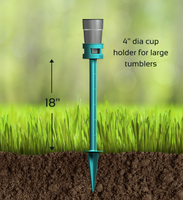 the VersaStake®
Thoughtfully designed with versatility in mind. Single-piece, polycarbonate construction provides superior strength and durability. The patent-pending VersaStake® is the core component of our stake-based mounting system. Much more than just a cup holder!
BUY NOW
Strong, durable, built to last!
We designed the VersaStake to last a lifetime. Get your hands on one and you will understand. 
Perfect for Corn Hole & other Outdoor Games!
No more searching for a safe place to set your drink when it's your turn! Whether it's corn hole, horseshoes, or washers, we've got you covered. Put a VersaStake® or two behind your boards and you will never play without them again. 
LEARN MORE
EVERYWHERE Outdoors!
Hunting, camping, backyard...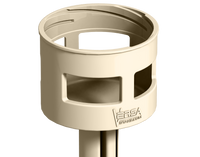 Threaded cup holder for screw-on attachments
Attachments (coming soon) screw directly into the cup holder with a quick 1/4 turn. The "VersaTray" is our first attachment scheduled for release. In time, we also plan to develop a floor stand for hard surfaces, a wine / champagne bucket, lights, speakers and so much more!
BUY VERSASTAKE® NOW